I came home from work at around 2:30 on Wednesday afternoon. I was slightly hungover from a fun evening the night before and was planning to take a nap. But Matt had other plans! He told me to pack a bag, since he had gotten the next day off (and I did as well) and we drove 6 hours up to the Bruce Peninsula. We had no plans and no idea what we were in for, but we love an adventure!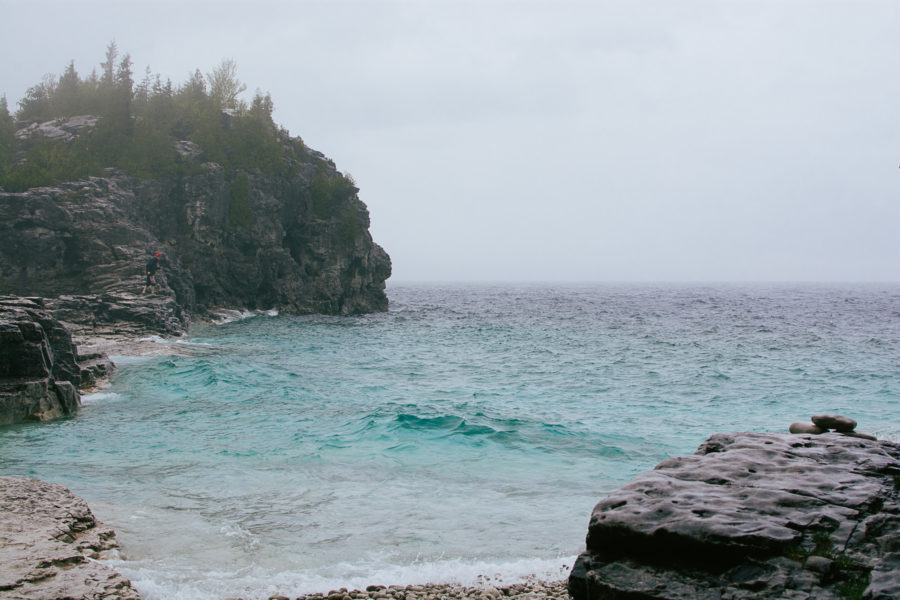 We rolled into the Bruce Anchor Motel just before midnight. We picked up some pamphlets from the lobby, sat down with a bottle of sparkling wine, and started to look at our options for the next day. The lady in the lobby had told us that everyone comes to see "The Grotto" but that space was limited to get in, and tickets get handed out at 7 am and are usually gone by 7:30/8 o'clock. Unfortunately we aren't early risers, so we didn't make any specific plans to visit. I quickly fell asleep before any real plans were made, but we like to make things up as we go anyway.
The next morning we headed out to the recommended breakfast joint – Craigie's Harbourview Restaurant. We quickly realized the day would be full of rain. We wanted to walk and explore, so we came to the acceptance that we would just be wet all day.
We finished breakfast and walked from the restaurant to Big Tub Lighthouse. Although not a long walk (about 20 minutes, along paved road) it was a little uncomfortable in the rain, and there isn't anything to see along the way. I'd imagine driving would be better – but in the summer there wouldn't be much room for parking if it was busy. The waters were beautiful, however, and had the rain not started coming down harder halfway into our walk, it would have been well worth it. We explored for a bit before heading back to our car we left at the motel.
Our next stop was Tobermory Brew Co. Right around the corner from our breakfast spot, we stopped in for a flight of beer, each! Great beer and we got to dry off.
After enjoying our flights, we took a quick walk along the harbour. We realized that due to the weather (or perhaps because it was midday on a Thursday in May) there weren't many tourists around. So we thought we would see the scenery at the National Park before we drove home.
As we drove up to the gates of the park, flashing our Canada 150 pass, the ranger asked us if we were headed to The Grotto. "Can we?" we asked, assuming they weren't letting any more people through this time of day. "Sure," he said, as he handed us a map. Off we went!
It was a decent drive through the park to start the little hike out to The Grotto. The rain wasn't as bad under the shelter of the trees. We didn't see many people along the hike – but we did rush ahead of the busload of school children (or camp kids, perhaps) that were waiting to begin in the parking lot.
The Grotto was amazing. The waters are crystal clear. Big rocky beach. You can scale the walls and climb high and low. Writing this a day later, I am a little sore! I can imagine how packed it would be during the summer. The rain and fog turned out to be a blessing, as we were able to enjoy it without many people. Well worth the impromptu trip! Photos below and video to follow.